A first-time customer arrives at a local apiary to pick up a load of bees. She and her husband are as thrilled as they can be to undertake what they hope will be a very profitable hobby. Her husband and the local beekeeper work on getting the bees into the truck while she speaks to the beekeeper's assistant. One of the first thing she says is, "what equipment is required for beekeeping?"
This new beekeeper's question is not at all unusual. It is normal for people who know nothing about beekeeping to not know what they don't know. That includes the tools and equipment they should have on hand. Know this: there are both essentials and non-essentials when it comes to beekeeping.
This guide will let you in on the essential equipment every new beekeeper should have on hand. If you are thinking about beekeeping, getting started is going to require an investment. The good news is that you will not need to spend tens of thousands of dollars. Depending on where you live and how many hives you want to start with, an initial investment of between $1,000 and $1,500 would be reasonable if you were living in the U.S. Obviously this would vary depending where in the world you live.
The following are considered among the more essential pieces of equipment for beekeeping:
Hives
Hive frames
Bee feeders
Hive tool
Beekeeping suit
Hive scraper
I discuss each in more detail below. I also detail a list of non-essential items as well.
Bestseller No. 1
Bestseller No. 2
Bestseller No. 3
Beekeeping Supplies 22 Pieces Frame Holder Beekeeping Kit,Beekeeping Tools Bee Keeping Supplies-All Kit for Beginners and Professional Beekeepers
Beekeeping Kit Including:1 Bee Smoker,1 Pack Bee Smoker Pellets,1 Frame Holder,1 Beehive Grip,1 Beekeeping Gloves,1 Bee Brush,1 J Hook,1 L Hook,1 Thumb Hook,1 Beehive Feeder,1 Cleaning Shovel,1 Spur Wire Wheel Embedder,1 Uncapping Fork,1 New Designed Uncapping Scraper,1 Uncapping Z Tool,1 Honey Gate,1 Honey Filter,2 Queen Cage,1 Queen Mark Tube,2 Beehive Tools
Necessary Beehive Tools for Bee Hive Inspection: Premium Bee Smoker with Extra Shield,1 Pack Bee Smoker Pellets,1 Frame Holder,1 Pair of Goatskin Gloves, 4 Type Hive Tools(L Hook,Thumb Hook and J Hook,1 Spur Wire Wheel Embedder) to Meet Different Needs, High Quality Beehive Grip, and Durable Bee Brush
Necessary Tools for Honey Uncapping: Stainless Steel Uncapping Z Tool is Great for Uncapping Combs from the Hive Walls, Premium Uncapping Fork and New Designed Uncapping Scraper are Great for Sunken Areas or the Corners of the Frames.Honey Filter and Honey Gate are great for Honey Filtering
1. Your Hives
Your first and most obvious expense are the hives themselves. Your hives represent the single largest investment you will make in your new hobby. So the first thing to ask yourself is whether you want to buy starter hives or bee kits.
Choosing starter hives means getting both bees and physical hives all in one. This is the more costly way to go but it also saves you the expense of having to go out and buy new hives. Everything you need in terms of the hives comes in a single package. Should you decide to buy a bee kit, that's another story.
A typical bee kit comes with a single queen and her army of workers and drones. It is up to you to obtain the hives before the kit arrives. That means you will have to go out and buy empty hives. Modern hives look a lot like a chest of drawers. They actually consist of layers of small boxes stacked on top of one another.
2. Hive Frames
Next on your list are hive frames. These are wooden rectangles that hang inside the individual boxes to provide a place for the bees to build the honeycomb structure that will make up their hives. Without the frame, there's nothing for the bees to build on.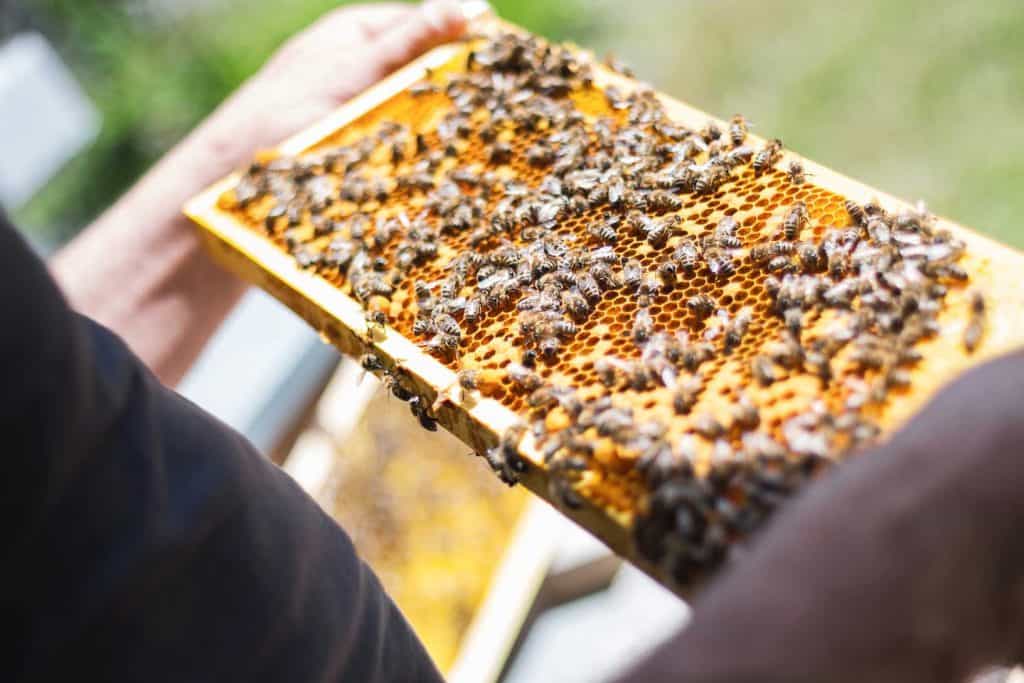 Hive frames are pretty straightforward. You can buy them rather inexpensively from the same supplier that provides your hives. If you want to save a little money, you can buy some lumber down at the hardware store and make them yourself. But only do this if you are handy with carpentry. If your hive frames do not fit right, you might not get the best results from them.
Although not essential, you can also buy foundations to go along with the frames. Foundations go underneath and provide a base for the bees' honeycomb structure. Your bees will spend less time building and more time producing honey. However, you may not want foundations. Beekeeper's who prefer a more natural method of beekeeping often leave them off. Either way is fine.
3. Bee Feeders
Believe it or not, you are going to need feeders to keep your bees going at times. In nature, bees will move to new locations if their food sources dry up. You are trying to keep your bees in your hives, not wandering around looking for food. So you're going to need feeders at certain times of the year.
A bee feeder is nothing more than a rectangular pan with a wooden frame and a grate that prevents bees from accidentally drowning. You fill the pan with sugar water and place the grate on top. Then you place the feeder in a strategic location. Experts recommend either the tops of hives or near their entrances. This makes the food accessible without tempting other critters that try to steal it.
4. Hive Tool
The hive tool is a seemingly simple tool that can be like gold to the beekeeper. The primary purpose for using it is to keep your hands out of the hive, thus reducing any perceived threat by your bees. The hive tool has two primary functions.
The first function is to help you pry the lids off your hives. If you do not understand why this is necessary, you have probably never tried to open a hive. Here's the deal: bees seal any holes they find with a sticky substance known as propolis. The bees will actually end up sealing the hive shut between inspections. It's a lot easier to loosen the lids with this tool than doing it by hand.
The second function of the hive tool is to make it easy for you to dislodge the honeycomb structure from the side of the box. The tool easily slips down along the side of the space. You can then move it back and forth to loosen the honeycomb. It is a lot easier and safer to do with the tool than your hand.
5. Bee Suit
There are plenty of veteran of beekeepers who do not find it necessary to wear a bee suit. That may be you 10 years from now, but it's not wise to start out without a suit.
Honeybees are not naturally aggressive. They tend to not bother humans as long as the humans don't bother them. But here's the problem: new beekeepers tend to be anxious through the first few inspections. Some are still anxious 6 to 8 months later. Bees can pick up on that anxiety. If you are anxious, they will be too. They might perceive you as a threat and attack.
A good bee suit does a couple of things. First, it increases your confidence to the degree that you might not be so anxious anymore. After all, there is nothing to be anxious about if you know you're not going to be stung. The other thing it does is protect you against bee stings in the event they do attack. Hopefully you will never encounter that situation.
A good bee suit is a ventilated suit that covers you from your ankles to the crown of your head. There are gathers at the ankles, wrists, and neck to prevent bees from getting in. The suit also includes a hat and netting to keep bees away from your head and face while you are working.
Be sure to supplement your bee suit with a good pair of gloves and work boots. Leather and rubber are preferred materials for boots and gloves because bees cannot easily sting through them.
Professional Beekeeping Suit and Goatskin Gloves (1 Pair) Self-Supporting Fencing Veil and Heavy Duty YKK Metal Zippers for Bee Keepers Easily Take On and Off (X-Large)
★ TOTAL PROTECTION – Elastic Wrist and Ankle Cuffs Ensures NO Bees Can Get In – Covered Entry Points for NO Stings – Inside collar so you won't get stung on the neck. Goatskin Gloves – Elastic Sting Proof Canvas Cuffs.
★ COMFORTABLE – Cotton and Poly Blend – Our Detachable Head Fencing Veil is Attached with a Double Slider Zipper That Allows You to Easily Take On and Off. There is zipper in front and one on the bottom of each leg. Goatskin Gloves – The goatskin leather is soft and pliable – Sleeves are ventilated for comfort.
★ 10 CONVENIENTLY LOCATED POCKETS FOR EASY ACCESS – Our pockets are easy to reach and deep enough so your tools don't fall out when working on your hive – Some of the pockets have hook-and-loop fastener flaps.
6. Hive Scraper
This handy little tool is not considered essential by every veteran beekeeper. However, it can be a lifesaver for the new hobbyist. The hive scraper is a tool used to clean the sides and top bars of your hives. And yes, you will be cleaning your hives regularly. There is no point in doing more work than you have to, right? So get yourself a hive scraper.
A Word About Non-Essential Items
The six items listed above are considered essential for new beekeepers. Needless to say that the list is not exhaustive. There are many other tools and supplies you could buy that are not considered essential. The list is so large that it would be nearly impossible to cover everything here. But just to give you an idea, here are a few of the non-essentials that seem to be popular with modern beekeepers:
Queen Catcher
The queen catcher is a small hand-held tool that looks a lot like a plastic clip with rounded ends. It is a handy little tool for temporarily capturing the queen and separating her from the hive. You can use the tool safely without any harm to your queen. Because they are generally cheap plastic, it is best to buy them in packs of 5 to 10.
Queen Excluder
The queen excluder is essentially a metal rack with slits small enough to allow workers and drones through while keeping the queen in her place. This is a tool you may want to have on hand if you want to control where the queen lays her eggs. In the event you feel your queen is getting ready to abandon the hive in search of a new place to lay eggs, you can use the excluder to keep her confined.
Fans of natural beekeeping tend to shy away from using the excluder. You may decide it is not right for you either. But as a new beekeeper not quite familiar with how queens operate, you might also find this tool very handy at times.
Smoker
The smoker seems to be a controversial tool within the beekeeping community. Some beekeepers love it because smoke makes the bees more docile. Those who don't like the smoker cite the bees' natural biology as the reason why.
Smoke doesn't make bees more docile by sedating them. Rather, smoke actually irritates bees and makes them anxious. They assume the smoke is from a forest fire, causing them to gorge on honey in anticipation of having to flee. They are docile because their bellies are full.
Critics of smokers say that smoking bees stresses them out to a serious extent. They say that smokers can reduce honey production if done too frequently. You will have to weigh all the factors for yourself.
Sale
Stainless steel + leather Bee Hive Smoker with Heat Shield Beekeeping Equipment
Superior Quality: This bee smoker is 100% brand new and made from high-quality stainless steel, ensuring its durability and long-lasting performance.
Easy to Use: With its user-friendly design, this smoker produces smoke that helps keep bees calm, making it easy to work with them without causing any harm or agitation.
Safety Features: This bee smoker comes equipped with a built-in heat shield that protects your hands from getting burned while you work with it. Additionally, it has a perforated aerator and an optional base plate that ensures good air flow and allows for safe and easy cleaning
Queen Marker
Losing your queen means the end of your hive. If you lose her and do not replace her quickly enough, your hive is going to collapse. For that reason, you might want to think about getting a queen marker. This handy little tool makes it easy to mark the back legs of your queen with an easy-to-see, non-toxic ink. The queen marker is certainly not essential to beekeeping, but it is rather helpful for new beekeepers.
Equipment Required for Beekeeping – Conclusion
In conclusion, beekeeping is a fulfilling and rewarding hobby or business opportunity that requires some essential equipment to get started. The six items outlined in this article are a great starting point for beginners who want to start beekeeping. These items include a bee suit, gloves, a hive tool, a smoker, a bee brush, and a hive kit. While there may be additional equipment needed depending on the specific beekeeping operation, these six items are crucial for maintaining a healthy and productive bee colony. By investing in high-quality equipment and learning the proper techniques for using them, beekeepers can create a safe and productive environment for their bees while also producing honey and other bee products. It is important to remember that beekeeping requires continuous learning and education, as well as ongoing maintenance of equipment and hives. By taking the time to understand the needs of their bees and investing in the right equipment, beekeepers can enjoy the many benefits of this rewarding and environmentally conscious hobby or business.
Now you have a good idea of what you're looking at to start a beekeeping hobby. You don't have to spend a fortune on beekeeping equipment and supplies but try to avoid the temptation of going as cheaply as possible. This is one area in which you truly get what you pay for.
Investing in quality equipment and supplies will not only make your beekeeping endeavor easier, but also more productive. So shop around to find the best equipment and supplies you can. You will be glad you did once your hives start producing.
---
---
Last update on 2023-11-14 / Affiliate links / Images from Amazon Product Advertising API