When purchasing a beekeeping suit, the material is certainly something to consider; you will also want to think about what gloves are best for your beekeeping needs. However, neither of these are the component that beekeepers lose sleep over.  The one part of the beekeeping suit that is the most varied and the most indispensable is, of course, the veil.
A good beekeeping veil makes all the difference in the world. For one thing, it is perhaps the one area of the beekeeping suit that even experienced beekeepers would shiver at the thought of not being secure. A veil protects your face – and a rogue bee finding access to this part of your body is unpleasant to even think about.
For this reason, there's much variety in beekeeping veils, with various sellers promising the best in protection and visibility. These two factors are indeed the metric by which you should judge a beekeeping veil – you will need to keep out every bee, but also see what you're doing! Comfort is also something you might want to consider and, just so long as you put protection and visibility first, it's definitely worth bearing in mind that some beekeeping veils can fit more agreeably than others. If you wear glasses, this is also a major consideration as some veils might be slightly uncomfortable for glasses wearers. Once again, you will want to see what you're doing.
As good rule of thumb, beekeeping veils that attach to your suit via a zipper are usually more secure than those that use a drawstring or elastic. This is not to say that all of these types are bad veils (and I have some in my list below), but zippers are generally considered the most bee-proof way of sealing up your suit.
Beekeeping veils can be sold separately from both the suit and the hat, which secures them from the top of your head. Some veils are sold separately as two pieces (hat and veil), some are only one piece and some of course come as part of a whole beekeeping suit. Naturally, choosing your veil separately is the best way to combine the qualities of a good veil with the qualities you'll be looking for in the other parts of the suit – it's a wise idea to mix and match here. In this article, I will give you a run-down of the best separately sold beekeeping veils, but you can see my article here for the best full suit sets on the market (opens in a new tab).
Types of Beekeeping Veils
When it comes to beekeeping veils, there are three main types –round, square, and hooded veils. Deciding which of these most fits your needs is the first step in purchasing the right veil for you. Before I begin my list, let's check out the three basic designs. 
Round Veil
The round veil is a (normally) single piece veil that combines a wide brim with a mesh that completely encircles your head. Obviously, this is the type of veil that supplies the best visibility, offering the wearer 360 degrees vision. This is however also the largest and most cumbersome of the three types. This means you will want to be extra sure that it fits securely to your bee suit. With round veils, a good protective mesh material is a must as it features the largest mesh surface area, meaning more potential for bee intrusion if any part of it rips or is not properly reinforced. Nevertheless, for that valuing visibility above all else, the round veil is usually the way to go. You'll notice that round veils feature most prominently on my list.
Square Veil
The square is the veil type that most often comes in two parts – a hat and a veil – often sold separately. As the name suggests, it is square in shape and offers decent peripheral vision to the beekeeper, making it a good halfway point between the round veil and the more enclosed hooded veil. The square veil is also the most economical choice and, to save money, beekeepers have been known to only buy the veil and combine it with whatever hat will hold it in place. The security concerns here are obvious and the veil itself can be prone to swiveling around your head. However, if you buy quality, you can certainly find square veils that hold firm.
Hooded Veil
A hooded veil is an (often collapsible) veil that unfolds over the head like a hood. The hooded veil is probably the best option for protection, as it limits the mesh area and fits securely. Unfortunately, this also means that your peripheral vision when wearing one can be poor to non-existent. With hooded veils, it is also particularly important to get the right fit as an ill-fitting hooded veil can sit low on your head and limit your direct vision as well. This is an avoidable pitfall but certainly one to bear in mind when purchasing.
Armed with some knowledge about the different types of veils and what beekeepers typically look for in them, you are already in a great position to make an informed choice. Here then is my list of the best beekeeping veils on the market, in reverse order. Please do bear in mind though that any of these products are liable to be in and out of stock throughout the course of the year.
I kick off with a fairly atypical round veil that is nevertheless great when it comes to protection from stings and the overall quality of the fit. This round veil comes with a hat of quite a short brim and a long 50cm veil that can be tucked well down inside the beekeeping suit, offering full protection from any adventurous bees.
This offers great protection and, being a round veil that does not interrupt peripheral vision, great visibility on all sides. The smaller brim on the hat also has its uses, being less cumbersome and therefore useful for attending to more delicate beekeeping tasks.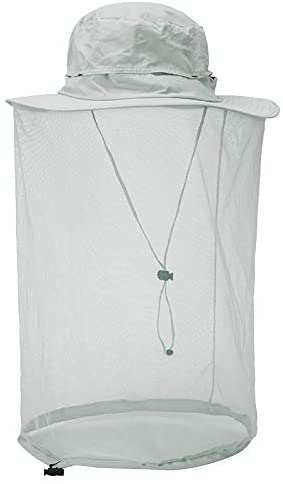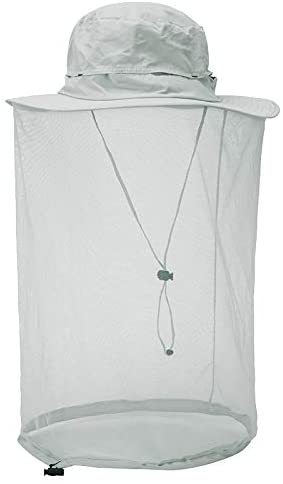 This veil also features a chin strap that fastens with a chord, stopping the hat (and therefore the whole veil) from moving around as you go about your beekeeping duties.
There is a slight tradeoff when it comes to ventilation and comfort – the mesh is 100% synthetic, and the small brim does mean that the whole thing sits rather close to your face. At the very reasonable price for which it typically sells however, this is a winner that offers peace of mind for those just starting out – as well as plenty of other features to recommend it to more experienced beekeepers as well.
Click here to check out the Hunterbee – Beekeeper Hat and Insect Mesh on Amazon.
Regularly selling for under twenty dollars, this is undoubtedly a veil for those beginner beekeepers looking to keep costs low at the outset. The reason such an offering features on my best beekeeping veils list is that it is precisely these beekeepers that often need guidance in what to buy. The reason for this is simply that, at the lower price range, there's endless potential for being let down by shoddy beekeeping equipment.
This veil certainly doesn't belong in that camp, boasting a high-quality composition in both the hat and the veil. For one thing, the elastic that secures the veil to the lower ring and the brim of the hat is particularly secure. For those just starting out, this gives excellent peace of mind.
This veil is made in Pakistan – a country not only with a large beekeeping industry and much developed expertise but with the kind of weather condition that sees beekeepers value ventilation, comfort, and protection from the hot sun. This veil provides all that, and is both comfortable, well ventilated, and UV resistant. This is a great evil for those working in hotter condition.
As with pretty much all veils in the lower price range, long term durability can be an issue. However, this is not a veil to let you down in the short to medium term and you can be guaranteed several years of use. It is also a secure fit for all sizes. Another winner for those starting out.
Click here to check out the Primeonly27 – Beekeeping Veil on Amazon.
The next veil on my list boasts as its main selling point an innovative "pull out" veil that allows the wearer to remove the portion of this round veil that covers the face. This is thanks to a small portion of elastic at the front of the hat's brim that can simply be stretched off to create an opening at the front of the veil.
This is a great feature that has many advantages. For one thing, it allows the wearer to instantly aerate the veil. Although there are several well-ventilated veils on my list, this is the gold standard if that is a top priority.
Of course, for those prioritizing security from stings, this might be a bit worrying. Thankfully, when secure, the opening is fully closed off and the elastic clings tightly to the brim of the hat. Naturally, you will want to open it only when at a safe distance from any bees, and of course, for those prioritizing total protection, this might not be the best veil out there. 
However, if your hive is not particularly aggressive and you're a beekeeper well used to working with a bit less protection (as many beekeepers do), this great feature will also allow you to temporarily increase visibility for the most delicate of tasks while maintaining protection across the other areas of your head and body.
Click here to check out the Forest Beekeeping Supply – Beekeeping Veil on Amazon.
Humble Bee is a great beekeeping supply company for several reasons. For one thing, 10% of their profits are donated to programs promoting sustainable beekeeping in the U.S. So before I even get to their veils, this is already a plus point!
This medium-brimmed round veil provides all the visibility you would expect and an oversized mesh to be tucked well into your suit, creating an all but impenetrable barrier for angry bees.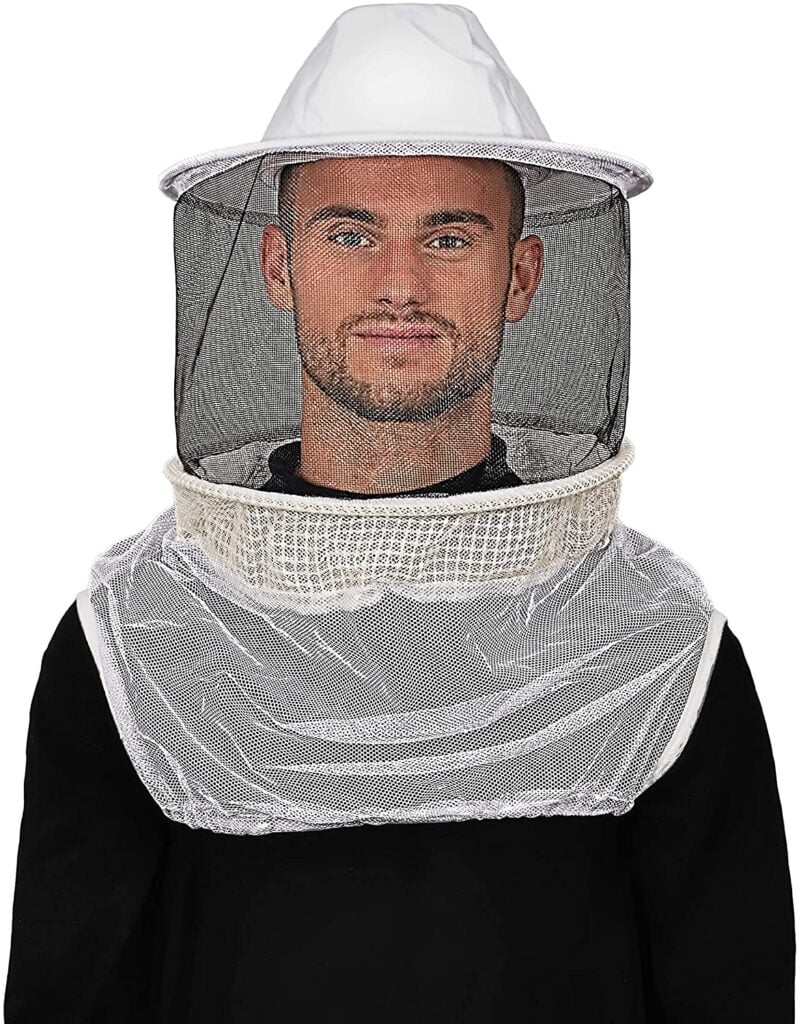 Yet this veil's main selling point is undoubtedly the innovation that has been employed in making it both well aerated and comfortable. Composed of a 50/50 cotton-synthetic blend, it is the 100% synthetic polymer 180 gsm trimmings that provide a super breathable inlet for cool air, making this also an excellent veil for hot conditions.
The veil also fits very snugly regardless of your head size and this is down to the design of rubber band within the hat. The band keeps the hat in one position on your head, avoiding the slippage that can be such a nightmare when you're in the thick of your beekeeping duties.
There are unfortunately some questions concerning the long-term durability of this particular veil, with the mesh specifically in danger of splitting after some years of use. This is however a long-term problem, and at any rate no beekeeping veil will last season after season. For its innovative approach to coolness and comfort, this veil earns a place on my list.
Click here to check out the Humblebee – 220 Aero Beekeeping Veil with Round Hat on Amazon.
Another round veil. This offering not only provides all of the usual benefits of this design but is also marketed as "multipurpose." What BeesNise mean by this is that it is suitable not only for beekeeping, but for general protection for all manner of outdoor activities, from hiking, to camping and boating.
Keeping things strictly hive-related here, what this means for beekeepers is that this is a round veil that is both durable and tolerant of sustained exposure to the adverse weather conditions often experienced in the great outdoors. For one thing, the mesh and hat combination make for a very well ventilated and UV resistant set up. This is a veil for comfort.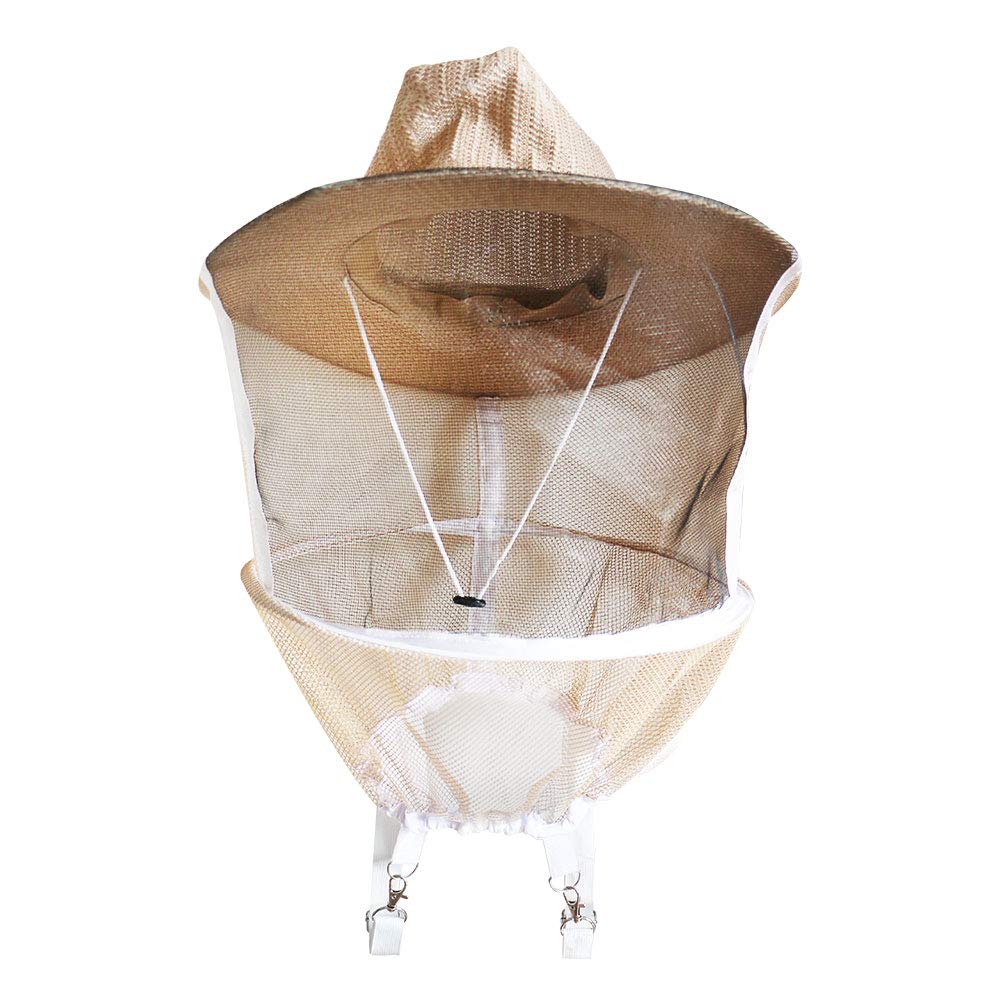 The veil is also admirably secure, coming with chin straps and metal buckles to keep the wide-brimmed hat in place. This is certainly a bonus as, with large round veils, any movement on the head can be infuriating and a genuine hindrance to beekeeping.
There have been some issues with this veil arriving compacted pretty tightly into its packaging, meaning you may have to press it into shape and leave it on a hat stand for a while. Yet while this is an embarrassingly avoidable downside, this is a great veil for comfort and security in the field.
Click here to check out the BeesNise – Beekeeper Hat with High Visibility Mesh on Amazon.
Regularly selling for under twenty dollars, this is undoubtedly another of those veils for beginner beekeepers looking to keep costs low at the outset.
For its price however, this veil guarantees impressive quality. One of its major benefits is that it is specifically designed to be a comfortable and secure fit. This goal is realized thanks to secure fastenings between the hat and the veil, an adjustable cord that goes around the chin, and adjustable straps that fasten under the arms and prevents any drooping or sagging.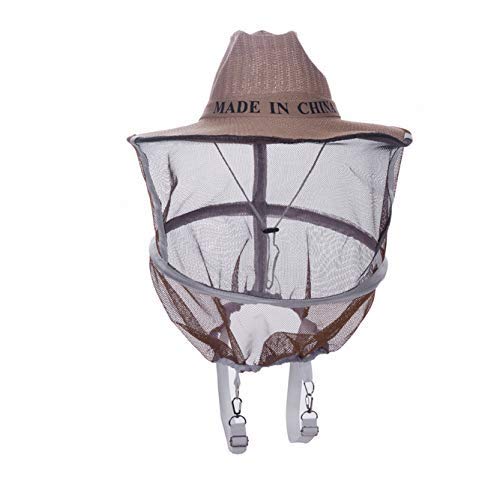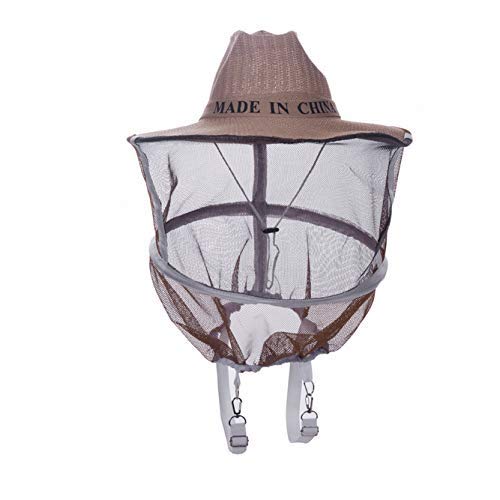 The veil itself is composed of glass fiber and is fully sting resistant. The wide-brimmed hat and round veil design naturally offer excellent visibility and the material comes with a fireproof coating.
While it isn't the best ventilated beekeeping apparatus out there and is of questionable long-term durability, this veil is pretty much ideal for beginners looking to keep things cheap.
Click here to check out the Hunter Bee – Cap Net Vest with Veil on Amazon.
Coming to the first square veil on the list, this offering from Mann Lake is all about adaptability. By this I mean that while this veil will require the separate purchase of a hat and the suit, it is a model that will perform in nearly all circumstances. At a very reasonable price, this is the veil to go for if you want to try out a range of combinations.
The veil comes with the two sides of a zipper, meaning one side can be securely sewn to any lower body covering you like. This means you can be assured of a zipper seal (the most secure) regardless of what suit you have. You can also match this veil to all manner of headwear, allowing you to create the combination that works best for you. And all at a reasonable price.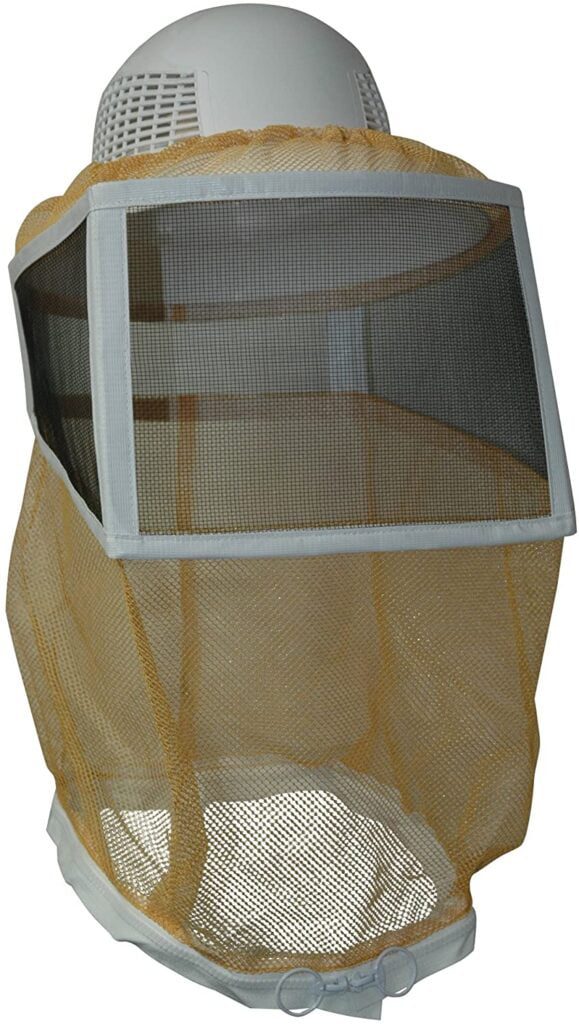 Coming to the veil itself, this model is advertised as "10 mesh", which is an industry metric for mesh density and here means that this mesh has 10 openings across an inch of material. This is data that comparatively few beekeeping suppliers provide, so it is welcome here and suggests a mesh that is both breathable and fully sting proof.
Naturally, the overall performance of this veil depends on what you combine it with but, from a full bee suit to a simple windbreaker, it's one to go with if you want to mix and match.
Click here to check out the Mann Lake – CL 110 Square Folding Veil on Amazon.
The next veil on my list is another from Mann Lake, which comes with most of the benefits of the previous entry. This is another highly affordable and adaptable square veil that you can combine with any hat you like. Coming this time with a robust cord fastening, it is included here for those who perhaps wish to try several veils with a trusted suit, without having to sew each new one anew.
As mentioned, sewn veils are the more secure models (for obvious reasons) but when properly tied, this cord model is not one to let you down and will allow for changing veils according to your specific needs. Sometimes, for example, a hive can be particularly aggressive, and you may wish to switch to a more secure and larger brimmed veil. Other times, a bit more maneuverability is called for. Keeping with cord secured veils allows you to do this and, if you'd like all the benefits of the Mann Lake Square folding veil without committing to sewing it on – this is the version to go for.
Click here to check out the Mann Lake CL105 Stingless Binding Square Folding Veil on Amazon.
Many beekeepers – especially those just starting out – often go in for a full beekeeping suit: hat, veil, gloves, suit, the works. It is the easiest way to get started and, if you know what you are doing, it is more than possible to get everything you need. This offering from Sunflower is one such set – minus the suit. There is a good pair of gloves involved here (check out my list of the top beekeeping gloves here – opens in a new tab) but it earns a place on this list, of course, for the veil.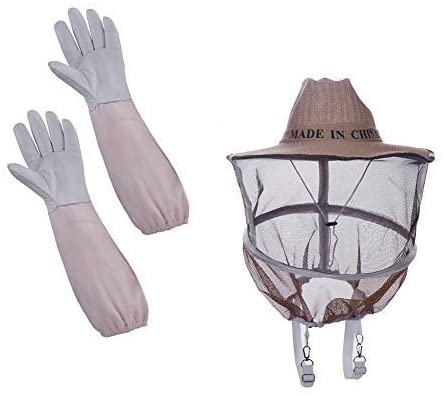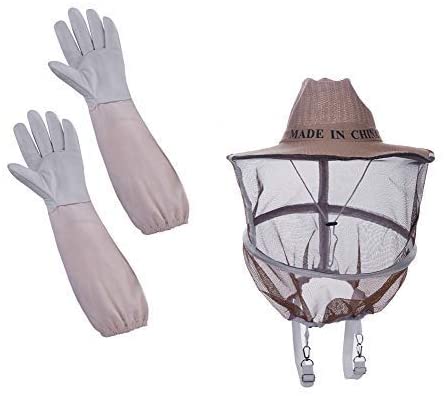 This round veil is one for those prioritizing a bit more dexterity when managing the hive. The mesh here is relatively loose and the brim of the hat is not too wide. This means that it is one of the less cumbersome beekeeping veils out there while still offering more than ample protection for the wearers face. For one thing, the veil is sewn directly to the hat, leaving no chance of invasion on that front.
This is also a pretty comfortable veil and is well aerated. Sunflower also boast that it offers good sun protection – which may be a real bonus depending on where your hives are located. This veil does not offer the maximum protection at the lower end as it doesn't extend far beyond the shoulder. Nevertheless, this is something that can be remedied with a good secure suit.
Click here to check out the Sunflower – 2-in-1 Anti-Bee Protection Set on Amazon.
This is yet another beekeeping veil from Humble Bee, meaning you can be sure 10% of the profits are going towards supporting sustainable beekeeping in the United States.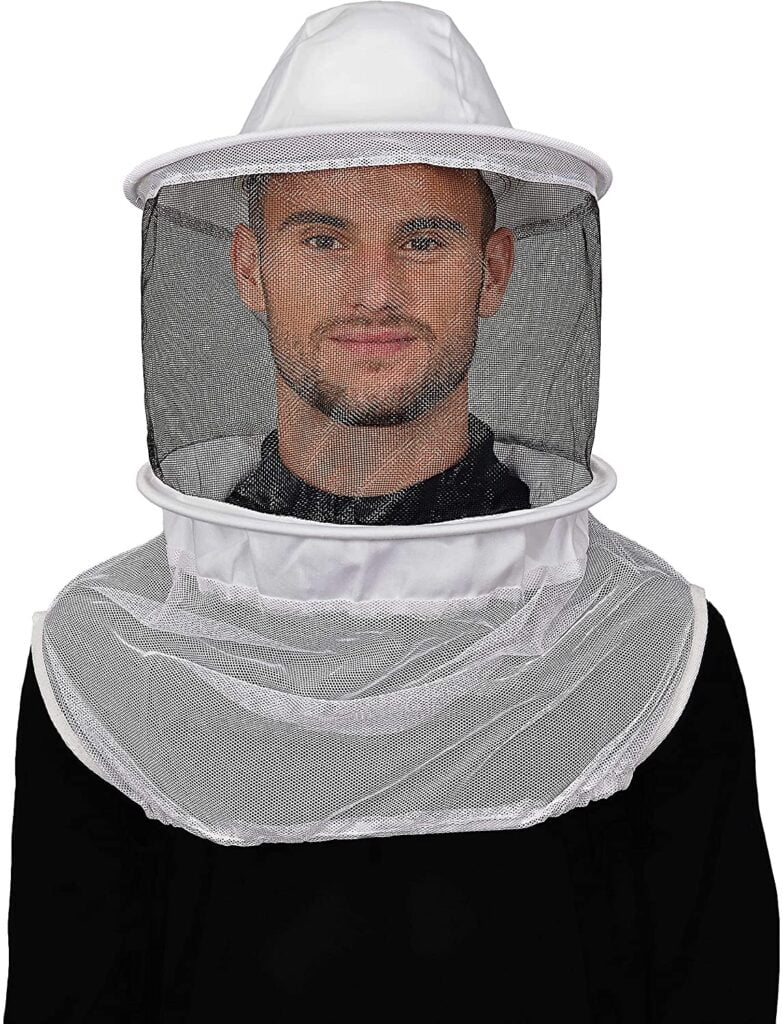 It is also, typically, another solid choice, and a good one for beginner or more timid beekeepers prioritizing protection above all else. Elasticated fastenings are not always the best for protection but that is a rule that certainly doesn't apply here. Fitting snugly around the brim of the hat, this veil also has an oversized mesh that drapes down across the neck and shoulders to the level of your chest, so even the more fearless bees will have zero chance of getting past it. There are also reinforced brims around the hat and elastic shoulder straps.
This is another hat and round veil set that offers maximum visibility and comes as one-size-fits-all. The mesh itself is of a simple 50-50 polycotton composition, which offers nothing spectacular as far as ventilation and comfort are concerned – but it will not let in any bees.
Click here to check out the Humble Bee – Polycotton Beekeeping Veil with Round Hat on Amazon.
The final veil on my list is one that tweaks the traditional formula to winning effect. This veil is the shape of traditional round veil yet is a model designed to be combined with a hat and sold in two parts. Thankfully, this still amounts to a single purchase as the two components come together – and for a reasonable price at that.
But hat and veil are sturdy, durable, and hand-washable, meaning you will get years of use out of this set. The veil itself is composed of cotton and hemp and is layered with a nylon mesh. This particular composition not only provides a solid protection against the angriest of bees, but it will also provide good ventilation. Wearing a bee suit is never the most comfortable experience, but this will go a long way to keeping you cool as you see to your beekeeping duties.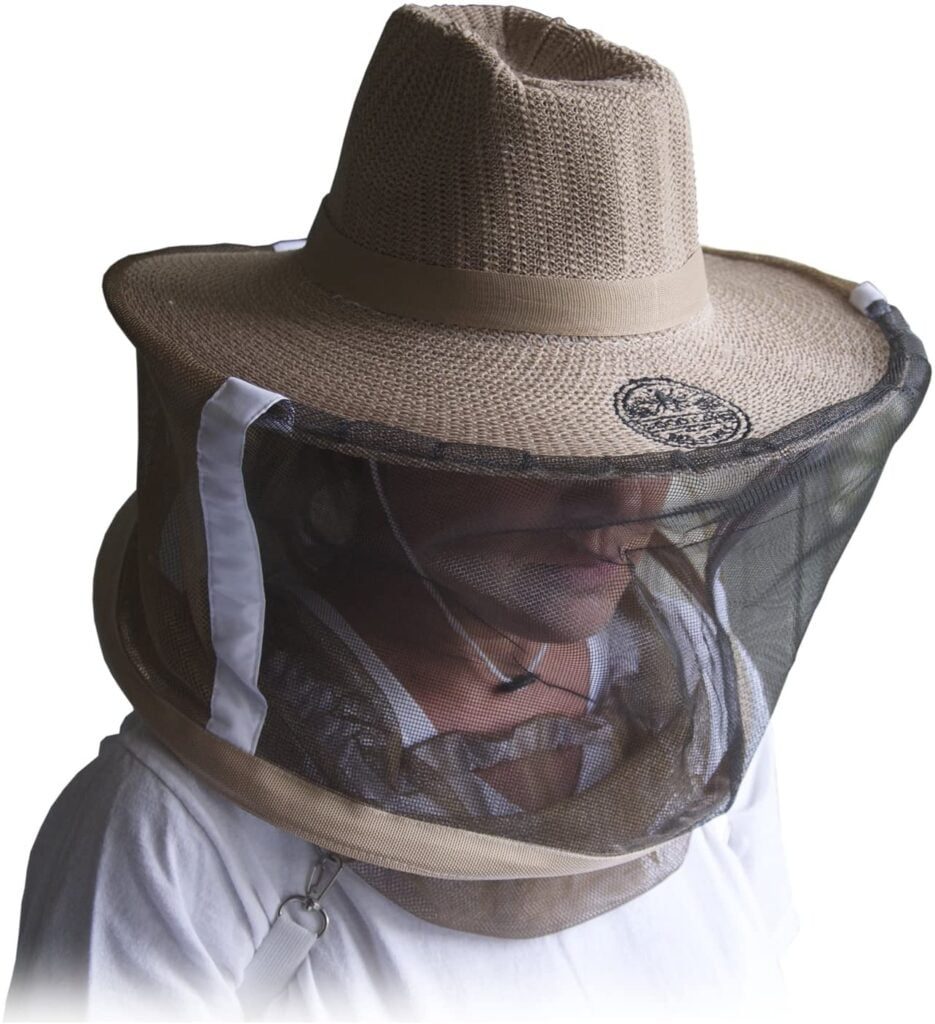 Naturally, as a round veil that will encircling your head all the way round, this is one to go for if you value visibility, offering maximum peripheral vision. The hat is also sturdy and fastens securely to the veil, as does the veil to the neck of your bee suit.
Naturally, there is a tradeoff here when it comes to how cumbersome the veil is. Being a large veil for a wide brimmed hat, it is rather large. What you gain in visibility and ventilation might limit you if you want to get more up close and personal for those trickier hive maintenance tasks.
Nevertheless, the particular issue of size aside, this is one of the best veils out there for beginners and seasoned beekeepers alike.
Click here to check out the Goodland Bee Supply – Natural Cotton Beekeepers Hat Veil on Amazon.
The Best Beekeeping Veils – Conclusion
Beekeeping is a fascinating and rewarding hobby that allows individuals to connect with nature while also providing them with the opportunity to produce their own honey. However, while beekeeping can be a fun and fulfilling activity, it is also a potentially dangerous one. Bee stings can be painful and, in some cases, even life-threatening, so it is crucial for beekeepers to have the proper protective gear.
One of the most important pieces of beekeeping protective gear is the beekeeping veil. This piece of equipment is designed to create a barrier between the beekeeper's face and the bees, protecting the beekeeper from bee stings. Beekeeping veils come in various shapes, sizes, and materials, each with its unique features and benefits.
When choosing a beekeeping veil, it is important to consider factors such as the level of protection required, the beekeeper's experience, and personal preference. The veil should fit snugly around the head and neck to prevent bees from getting inside, while also being well-ventilated to provide comfort during hot weather.
Overall, a high-quality beekeeping veil is an essential piece of gear for any beekeeper. With the right veil, beekeepers can safely and comfortably tend to their hives and enjoy the benefits of this rewarding hobby.
FAQs
Q: What is the purpose of a beekeeping veil? A: A beekeeping veil is designed to protect the beekeeper's face and neck from bee stings while working with bees. It is an essential piece of safety equipment in beekeeping and can be worn independently or attached to a beekeeping suit or hat.
Q: What materials are commonly used in beekeeping veils? A: Beekeeping veils are usually made from a combination of materials, such as polyester, cotton, and mesh. These materials provide breathability, visibility, and protection against bee stings.
Q: Are all beekeeping veils compatible with every beekeeping suit or jacket? A: Not all beekeeping veils are universally compatible with every beekeeping suit or jacket. It is essential to check the manufacturer's recommendations to ensure compatibility and proper protection.
Q: How do I choose the right size for a beekeeping veil? A: To choose the right size for a beekeeping veil, measure the circumference of your head, including the area where the veil will sit. Compare your measurements to the manufacturer's sizing chart to find the appropriate size.
Q: What is the difference between a round and a fencing veil? A: A round veil typically has a wider brim and offers a more expansive field of vision, whereas a fencing veil has a more streamlined design with a smaller brim and a shape similar to a fencing mask.
Q: Are there veils specifically designed for people who wear glasses? A: Yes, some beekeeping veils are designed with additional space or features to accommodate eyeglasses comfortably. Look for veils with a wider brim or extra room around the eye area.
Q: How do I clean my beekeeping veil? A: Most beekeeping veils can be hand-washed or machine-washed on a gentle cycle with mild detergent. Be sure to follow the manufacturer's instructions for proper care and maintenance.
Q: Can I use a regular hat or cap instead of a beekeeping veil? A: While a regular hat or cap might provide some protection, it is not recommended as a substitute for a beekeeping veil. A proper veil is specifically designed to protect the face and neck from bee stings and offer better visibility while working with bees.
Q: How often should I replace my beekeeping veil? A: The frequency of replacement depends on the quality of the veil and the intensity of its use. Inspect your veil regularly for any signs of wear, and replace it when it no longer provides adequate protection.
Q: Can I make my own beekeeping veil? A: Yes, it is possible to make your own beekeeping veil using materials such as mesh, fabric, and a hat or helmet. However, ensure that the materials and design provide sufficient protection against bee stings.
Q: Are there any alternatives to a beekeeping veil? A: Some beekeepers use beekeeping helmets with built-in veils or full beekeeping suits with integrated veils as alternatives to standalone beekeeping veils.
Q: Do I need a beekeeping veil even if I'm using a bee smoker? A: Yes, a beekeeping veil is still necessary even when using a bee smoker. While the smoker helps to calm the bees, the veil provides essential protection for the face and neck.
Q: How much should I expect to pay for a good quality beekeeping veil? A: The price of a good quality beekeeping veil can range from $15 to $60, depending on the materials, design, and brand. Higher-priced veils often provide better durability and protection.
Q: Can I use a beekeeping veil for other activities, like gardening or hiking? A: Although beekeeping veils are primarily designed for beekeeping, they can also provide protection against other insects during outdoor activities like gardening or hiking. However, keep in mind that the veil's effectiveness in protecting against other insects may vary, and it is not specifically designed for those purposes.
Beekeeping Disclaimer:
Beekeeping, like any agricultural activity, involves inherent risks. It is important to understand these risks and take appropriate measures to mitigate them.
Potential risks associated with beekeeping include:
Bee stings: Honeybees are generally not aggressive but can become defensive if they feel threatened or their hive is disturbed. Bee stings can cause allergic reactions or even anaphylaxis in some individuals, which can be life-threatening. It is important to wear protective clothing and follow best practices when handling bees to minimize the risk of stings.
Diseases and pests: Bees can be vulnerable to various diseases and pests, including mites, viruses, and bacterial infections. These can have significant impacts on bee colonies, leading to reduced honey production or even colony collapse. It is important to monitor hives regularly and take appropriate measures to prevent and treat diseases and pests.
Weather conditions: Extreme weather conditions, such as drought or cold temperatures, can affect the health and productivity of bee colonies. It is important to ensure that hives are appropriately sheltered and provided with adequate food and water.
Environmental hazards: Bees can be affected by environmental hazards such as pesticide exposure, pollution, and habitat loss. It is important to be aware of these hazards and take appropriate measures to protect bee colonies and promote healthy environments for bees.
Legal requirements: Beekeeping may be subject to local, state, or national regulations, such as registration or inspection requirements. It is important to be aware of these requirements and comply with them.
While beekeeping can be a rewarding and enjoyable activity, it is important to be aware of the potential risks and take appropriate measures to mitigate them. By following best practices and staying informed about the latest developments in beekeeping, beekeepers can help ensure the health and productivity of their hives and contribute to the well-being of bee populations worldwide.