As far as safety equipment go, your beekeeping suits, gloves, and jackets are probably the most important to you. It makes sense then that you want to look after them carefully, not only so that they keep protecting you, but also because you want them to last as long as possible. At the end of the day, you spent good money on them. This article will go into the topic of how to wash a beekeeping suit in detail.
Here is a step-by-step summary for washing your beekeeping suit before we get into the detail:
Make sure all the pockets are empty.
Remove the veil.
Pre-treat any stains.
Do up all the zippers.
Loosen the cord tighteners.
Place in washing machine and wash as per care instructions on garment.
Do not tumble dry. Instead hang out to dry naturally.
Make it a habit to wash your beekeeping suit regularly, always following the manufacturer's cleaning instructions. Apart from getting dirty, bee suits can collect stings and any released pheromones from these can make the other bees agitated.
Now here are the steps in a little more detail. I hope this will help you in your beekeeping suit cleaning endeavors.
1.  Make Sure all the Pockets are Empty
Ensure all the obvious things have been removed from the pockets. This means tissues, cloths, scraps of paper or notebooks, knives, and any other small pieces of equipment you might normally store away in a pocket while you are attending your bees. However, also ensure that you remove any debris that may have accumulated in the pocket's crevices. Think soil, leaves, twigs, etc. The last thing you need is a pebble or twig destroying the internals of your washing machine.
2.  Remove the Veil
Next, you need to remove the veil from the main body of your beekeeping suit. The veil should be handwashed only as this will help prolong its useful life. Make sure you wash it gently (with only a little detergent) to avoid any potential tearing in the veil. Another advantage of gentle washing is that the black color of the veil doesn't fade. Fading makes it increasingly more difficult to see through the veil. Once you have washed as well as you can, make sure you rinse it thoroughly and put it out to dry. Never put the veil in a tumble dryer.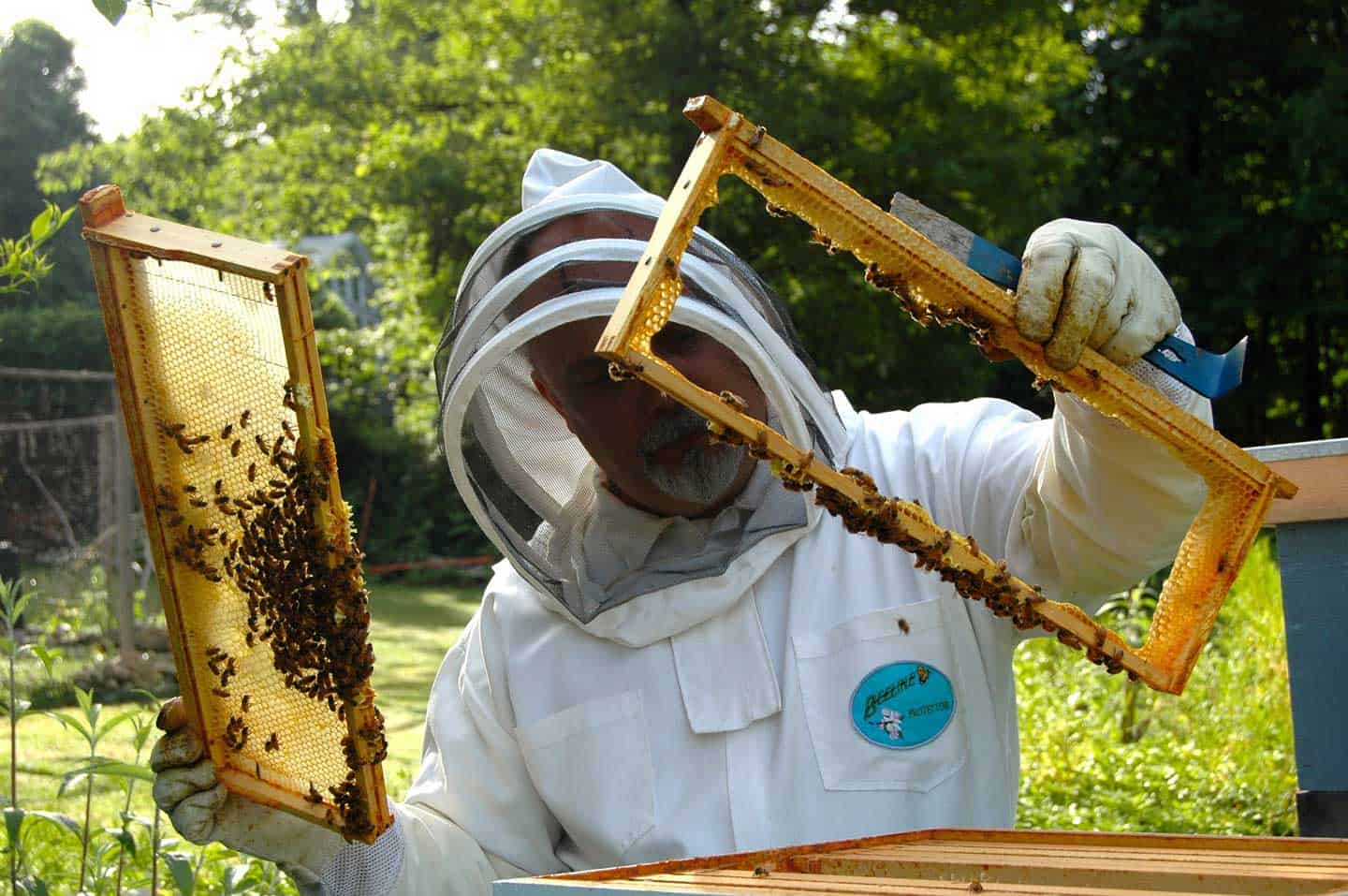 3.  Pre-Treat Any Stains
Any and all stains on the beekeeping suit must be pre-treated before the suit is washed in the machine. Propolis stains will never completely disappear, but they can be reduced by using a natural laundry detergent. Wax can be scraped off while any other type of stain can be rubbed with a pre-treater and pre-soaked before washing in the machine.
4.  Do Up All the Zippers
Zip up any and all zippers on the suit and, if necessary, use a couple of safety pins on the main zipper at the front (top and bottom) to ensure the zipper remains closed during the wash cycle.
5.  Loosen the Cord Tighteners
Make sure you loosen any cord tighteners on the suit. The reason for this is that tightened cords might stretch or otherwise lose their elasticity, rendering them useless thereafter.
6.  Place in Washing Machine
The next step is to put the suit in the washing machine and dial in the appropriate garment care instruction settings but always using the hottest water temperature setting that you are allowed to use as per the garment instructions.
Never wash the beekeeping suit

with any other type of clothing to avoid the transference of any remaining stains or possible traces of bee venom. My advice is to not use too much detergent and not use fabric conditioner.
7.  Hang Out to Dry
Once the washing cycle has been completed, do not tumble dry the suit as it will most probably shrink. Instead, hang the suit up to dry, preferably in shade, making sure you reopen all the zippers to aid in quick drying. Ensure the suit is thoroughly dry before bringing it in and storing it away. The last thin you want is for your beekeeping suit to start becoming moldy.
In Conclusion
In conclusion, knowing how to wash a beekeeping suit and keep it clean is essential for maintaining its durability and effectiveness. Not only does regular washing help remove any dirt or debris that may have accumulated on the suit, but it also helps prevent the spread of disease between your hives. By following the steps outlined in this article, you can ensure that your beekeeping suit is clean, well-maintained, and ready for use whenever you need it. With a little bit of time and effort, you can keep your beekeeping suit in top condition for years to come, and continue to enjoy the many benefits of beekeeping with confidence and peace of mind.